Order Food and Beverages Online in Pune. Best Cheesecakes and Sandwiches Near You.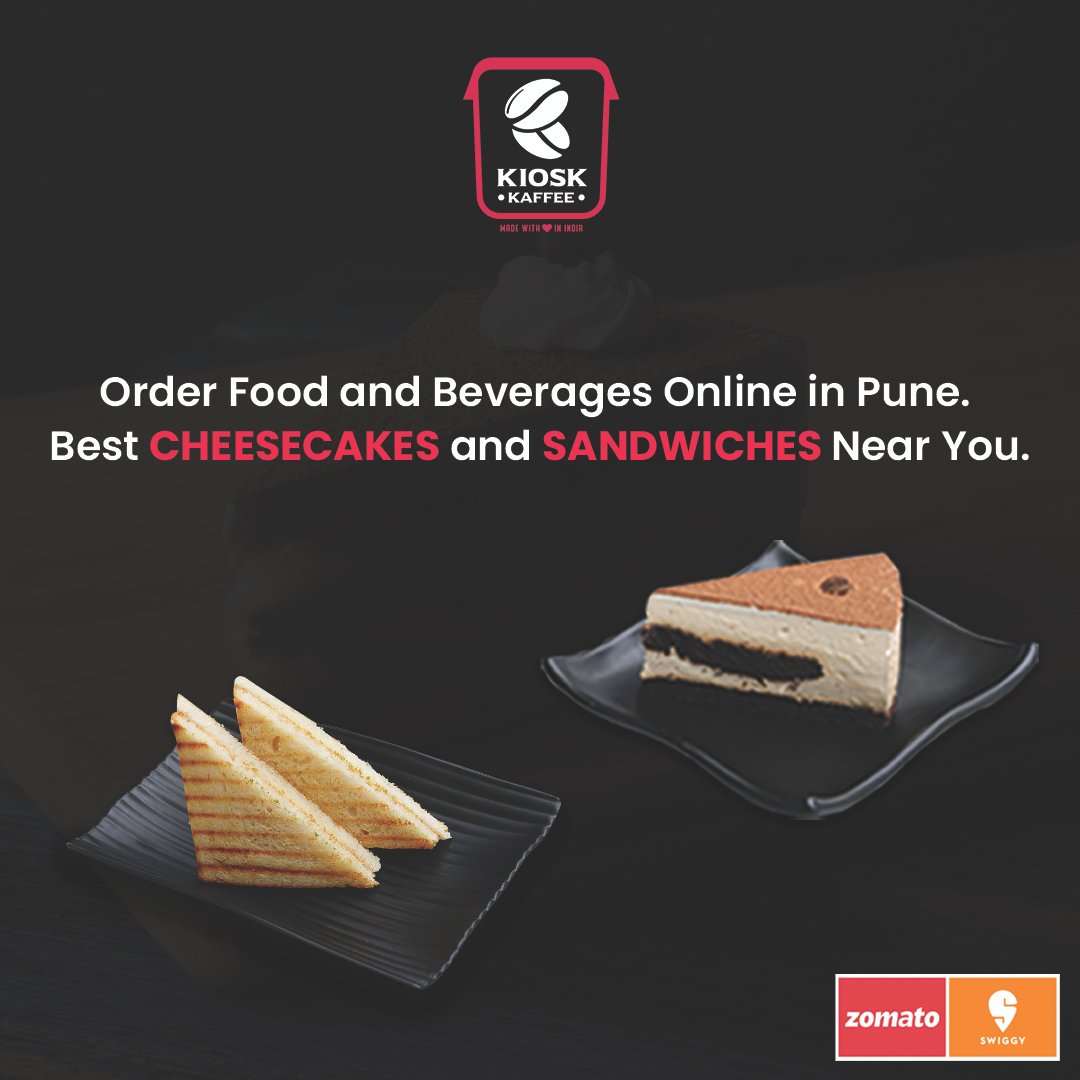 The summer sun is in full swing, but fear not, kaffee lovers! We've got the perfect solution to keep you cool, refreshed, and delightfully caffeinated all season long. Introducing our exceptional Kiosk Kaffee, where passion meets innovation and flavour reigns supreme. Prepare to embark on a flavour-filled adventure as we present to you our finest selection of shakes, cheesecakes, mojitos, and premium coffee blends, all at unbeatable prices right at your fingertips!
At Kiosk Kaffee, we believe that every sip should be a memorable one. That's why we've carefully crafted a menu to appeal to all tastes, ensuring that there's something for everyone. Let's take a look at the delectable treats that await you:
Shake Spectacular:

Brace yourself for a symphony of flavours! Our shake selection is guaranteed to transport you to a state of pure bliss. Indulge in creamy classics like vanilla, chocolate, and strawberry, or venture into the realm of excitement with unique combinations such as caramel or cookies and cream. Each sip will tantalize your taste buds and leave you craving for more.
You can order the best shakes near you via Zomato or Swiggy. 
Cheesecake Delights

: Every heavenly sip of coffee deserves a companion as extraordinary as

Kiosk Kaffee cheesecakes,

in our opinion. Consider this: luscious fruit compotes or decadent chocolate drizzles atop velvety smooth cheesecake. Each forkful will provide you with a symphony of flavours that will make your taste buds sing. Our cheesecakes are the ideal combination of richness and lightness, making them the ideal treat for any occasion.
Mojito Mania

: What could be more refreshing on a hot summer day than a zesty mojito? Our mojitos are a delectable combination of energising coffee and a burst of citrusy goodness. The tangy lime and aromatic coffee combine in a mesmerising union to create the perfect balance of flavours. These mojitos at Kiosk Kaffee are the ultimate thirst quenchers, providing a refreshing respite from the heat. The great part is we are bringing these mojitos right at your home or wherever you are! Guess what? Open Kiosk Kaffee via Zomato or Swiggy and place your orders now!
Premium Coffee Extravaganza:

We take great pride in presenting our exquisite range of premium coffees to the coffee connoisseurs among us. Each cup embodies the artistry and dedication of our expert roasters, from single-origin delights to meticulously crafted blends. Immerse yourself in the rich, velvety textures and enticing aromas of our coffee by ordering

Kiosk Kaffee items online

via your phone or desktop. 
But hold on, there's more! We understand the importance of convenience, especially during the hot summer months. That's why we've teamed up with Zomato and Swiggy, two of the most popular food delivery platforms, to bring the magic of 'order coffee online' at your comfort. You can have your favourite shakes, cheesecakes, mojitos, sandwiches and premium coffee blends delivered right to your home or office with just a few clicks, ensuring you stay cool and caffeinated all summer long.
To sweeten the deal, we've priced our offerings at reasonable prices because we believe that exceptional quality should be available to everyone. So, peruse our menu, tantalise your taste buds, and enjoy the coffee experience you deserve. 
Order now https://link.zomato.com/xqzv/rshare?id=43929642f50b906f  and make our exceptional coffee creations the highlight of your summer! We can't wait to share the magic of our coffee with you, no matter where you are. Remember, every sip counts, and every sip with Kiosk Kaffee is extraordinary.