IS COFFEE GOOD FOR PERIODS AND MENSTRUATION: HERE'S ALL YOU NEED TO KNOW BY KIOSK KAFFEE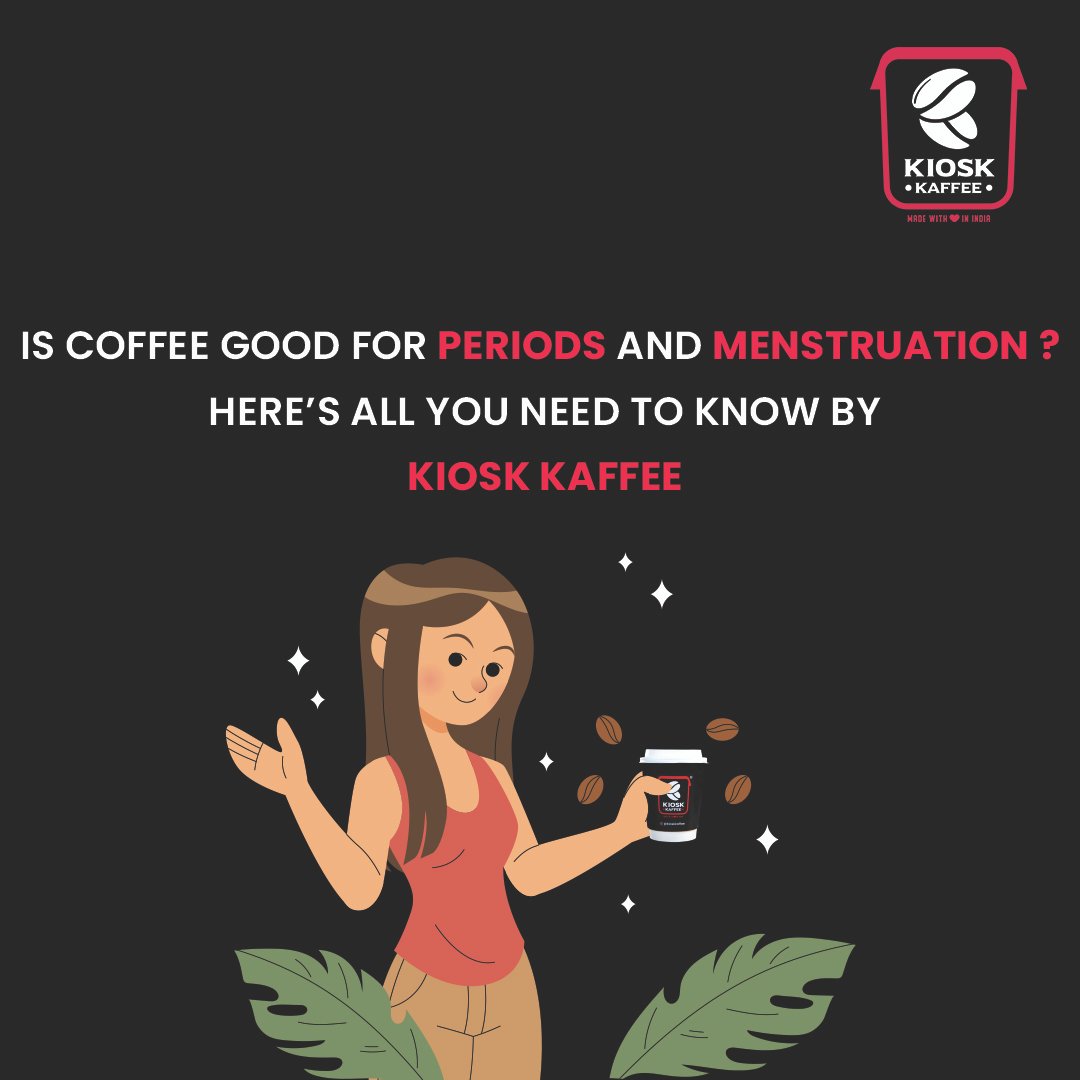 Welcome to our lively and informative blog, where we discover the world of periods and talk about a variety of fascinating topics like effects of coffee on menstruation. We'll look at the connection between coffee and periods in this post along with the best drinks for menstrual health.
Coffee is a popular beverage that many of us use to start our mornings and stay energised all day. But did you ever consider if coffee is beneficial during periods?
We'll explore the links between coffee and cramps and realities surrounding drinking coffee while menstruating in this jovial discussion. Is it an ally or an enemy? Does it make cramps worse or does it make them better? We'll separate fact from fiction and give you the knowledge you need to make wise decisions.
So grab a coffee, settle in, and let's begin. Come and let's embark on this caffeine-fueled journey with Kiosk Kaffee Pune to uncover the truth about coffee and periods along with understanding the impact of coffee on PMS. After all, knowledge is power, and there's nothing like a little fun exploration to spice up our understanding of menstruation!
COFFEE AND MENSTRUAL CYCLE
There isn't a set quantity that is appropriate for everyone to consume caffeine during your period. Individual sensitivities to caffeine can change during menstruation, and the effects of caffeine on the body can differ from person to person.
While some research indicates that moderate caffeine consumption (between 200 and 300 milligrammes per day) is generally safe for most people, it's crucial to pay attention to your body and how caffeine affects you during your period.
According to Kiosk Kaffee experts' opinion, it's equally important to pay attention to coffee and hormonal balances of your body to understand the link between coffee and cramps. 
It's normal to feel exhausted during ovulation or as your period approaches, so reaching for a cup of coffee to fight PMS fatigue is only natural. Although caffeine is a stimulant that helps us stay awake, for some people it can also worsen other unfavourable PMS symptoms like anxiety and irritability. We may feel more tired or irritable as a result of it interfering with our sleep patterns. 
COFFEE AND HORMONAL BALANCE
Although the extent of which this effect varies from person to person, coffee consumption may have an effect on hormones during your period.
The body's release and metabolism of some hormones can be affected by caffeine, the main chemical in coffee. Cortisol, or the "stress hormone," and adrenaline levels, for instance, could momentarily rise as a result. A temporary rise in alertness and energy can result from this.
Additionally, some studies have shown that caffeine has an impact on oestrogen levels. Although the effect is generally thought to be mild and temporary, it can slightly raise oestrogen levels. Given that oestrogen is involved in the regulation of the menstrual cycle, this might have an impact on menstrual symptoms.
THE LINK BETWEEN COFFEE AND CRAMPS
The relationship between coffee and menstrual cramps is a topic that has been studied, but the findings are mixed. While some studies suggest that caffeine consumption, including coffee, may worsen menstrual cramps, others have found no significant association. It's important to note that individual experiences can vary.
Caffeine is known to constrict blood vessels and potentially increase muscle tension, which could contribute to increased pain sensitivity. However, the impact of caffeine on menstrual cramps may not be substantial for everyone.
If you find that coffee or other caffeinated beverages worsen your menstrual cramps, it might be worth reducing your intake during your period. However, if you don't experience any adverse effects, there may be no need to avoid coffee altogether.
HOW TO REDUCE PERIOD CRAMPS NATURALLY?
Water is always at the top of the list when it comes to naturally healing beverages. No matter what your body experiences, staying well hydrated makes it easier to deal with any kind of physical discomfort, including menstrual cramps.
Water promotes circulation for a quicker, less painful bleed while also reducing fatigue and bloating. On the days before and during your period, try to consume 1.5 to 2 litres of water.
SMOOTHIE OF GREEN VEGGIES
Green foods are always healthy for you, but they are significantly more beneficial during your period. Drinking a delectable, fresh green smoothie in the morning or even as a pick-me-up snack can provide a significant nutritional boost that aids in the prevention of period pain.
Kiwi and bananas are rich in antioxidants, zinc, and fibre, while dark leafy greens like spinach and kale include iron and magnesium. For a glass of creamy green delight, simply combine frozen or fresh bananas with some leafy greens, kiwi, ice, lemon juice, honey, and the milk of your choice.
WHAT TO AVOID DURING PERIODS?
Foods high in sodium: Too much salt intake can cause bloating and water retention, both of which are typical during the menstrual cycle. Reduce your intake of processed and salty meals at this period if possible.
Sugary foods: Consuming foods high in refined sugars can cause blood sugar changes, which may have an impact on mood and energy. Additionally, some people claim that their periods cause them to crave sweets more, but it's still crucial to have a balanced diet.
INVOLVE A DOCTOR
If you have concerns about how coffee intake can affect your periods  or overall holistic health, visit a doctor or professional for customised recommendations.